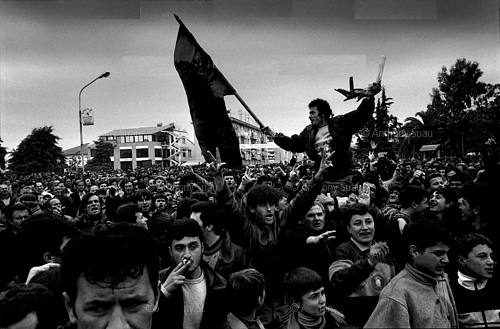 A warning from recent European history: the day Albania ran out of cash due to pyramid schemes

You may have read this month about Elizabeth Holmes in America who has just been sentenced to serve time in prison for fraud. Essentially, she created an elaborate and contemporary Ponzi Scheme – a phoney investment that promised huge returns – for a machine that can detect all forms of disease from a few drops of blood. She demonstrated what appeared to be a legitimate device and soon had investors pouring in their savings making her a billionaire – except the machine didn't work. It was a con.

Back in the 1990s the former Iron Curtain Communist state of Albania was experimenting with the free market following the end of anti-revisionist Marxism–Leninism policies. Several get rich quick schemes were set up fronting themselves as legitimate investors buying land, buildings and businesses by con men – but they were fraudulent, and their controllers took the money and invested it in themselves.

The amount of cash lost when 25 of the most prominent investment schemes collapsed ran into the billions with banks running out of cash and inflation reaching three figures. The upshot of the scandal in 1997 saw the country descend into anarchy and civil war. Banks and shops were looted and the nation's gold reserves were stolen as fighting broke out across the country – and it took an international UN backed armed intervention led by Italy to bring stability back to the country. And it had all started over Ponzi Schemes – if only they had Checkaco in Albania at the time!

Full peace of mind for £6.50 per company checked when you buy three reports for £19.50.

Quickly view a company's CCJ's, legal ownership, credit history, credit score and more.

Or buy in bulk: 10 reports for £37.50 (£3.75 each); 25 reports for £88.75 (£3.55 each); or 100 reports for £335 (£3.35 each)
For details about Checkaco email info@checkaco.com or visit the website https://checkaco.com/

Checkaco, The Exchange, Express Park, Bristol Road, Bridgwater, Somerset TA6 4RR UK