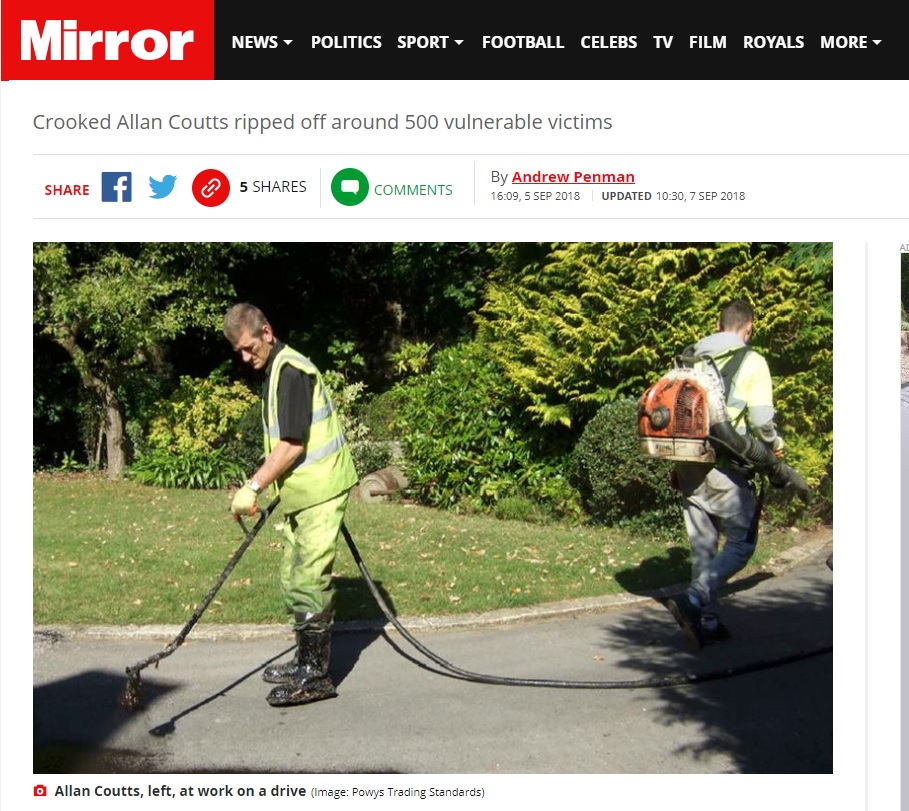 Checkaco the company first before you part with any cash
The driveway cowboys have been around ever since tarmac was invented. The con is the dodgy workman knocks on the victim's door and says they've some spare resurfacing material left over after working on a nearby road scheme and for cash, they'll redo the householder's driveway. They look unprofessional and you guessed it – money changes hands and they quickly resurface the driveway with inferior material which soon washes away in the first downpour.
However, there are also cowboys who appear to be professional road and driveway operatives. They have trucks with Highways Authority insignia with their name and officialdom endorsements on the side of their vehicles. But despite appearances and an official name and the word 'Limited' added to their firm's title they are not what they seem.
Like Allan Coutts who traded under a long list of different names and took up to £6,000 off more than 500 victims across England and Wales for a shoddy job in 2018. Trading Standards in Powys eventually brought him to book and he was finally sentenced to a spell in jail. If any of his victims had done a Checkaco search for £3.85 they would have quickly rumbled him as his various companies and directorships would have been revealed.
So if in doubt check them out first at https://checkaco.com/ and for £3.85 save yourself a lot of heartache, stress and cash. Picture caption: How the Daily Mirror reported the case