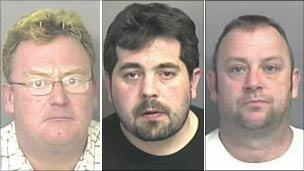 Builders are going out of business like there is no tomorrow. So, if your builder says they need a big deposit before they start work on your extension, garage, loft conversion or new bathroom, do a £3.85 Checkaco on them first. But first get their correct company name. Many rogues will trade under various names rather than their official one. The reason is they may declare themselves bust and you will lose your money.
Or like a trio of builders jailed back in 2011 in Gloucestershire they promise to do the work but request money up front before starting work – and then never start the work but keep the money. That is fraud and that's why Mark Dixon, 43, Nicholas Harris, 45, and Matthew Higgins, 33, were found guilty of conspiracy to defraud and sent to prison for several years.
Some unfortunate examples from the recent press:
The Financial Times, 2019, lost £15,000 deposit: Caroline Priest: "We're having a side-return added to our house in London. Everything seemed fine for the first week of the job, then one day the workmen failed to show up. It turns out that the company has gone bankrupt and is going to be wound up."
Property Hub, 2017, lost £9,500 deposit: Wesley Foderingham: "I have a builder who has done work for me in the past and who I had regular contact with. We agreed that he would refurbish a property of mine for a total price of £21,000. We also agreed on a timescale of 4/5 weeks to complete the work. I paid him £9,500 at the start of the job and then a couple of other payments, about £2,000 each after week 2 and week 4, each time he gave me an invoice and I paid it by bank transfer from my business account. After 6 weeks the job was nowhere near finished and he came to me and asked for the remaining balance so he could pay the workers for the extra time they have worked and the kitchen/bathroom etc. So, I transferred him the money and 4 days later he has disappeared off the face of the earth leaving my property empty! He has since blocked my number and taken his website down."
Money Saving Expert, 2013, lost £500 plus: Roxy: "He said he would need the cost of materials to be paid as a deposit up front and then the remainder to be paid on completion. I asked for a proper invoice before I sent the money. I got sent this by the builder's wife via email as well as their bank details and was told that they would provide a receipt upon the money clearing as well as a schedule of works and that they could come out the next week. They never came. I tried to contact them but they never answered."
If in doubt check them out first at https://checkaco.com/ and for £3.85 save yourself a lot of heartache, stress and cash. Picture caption: Mark Dixon, 43, Nicholas Harris, 45, and Matthew Higgins, 33, were found guilty of conspiracy to defraud and sent to prison.