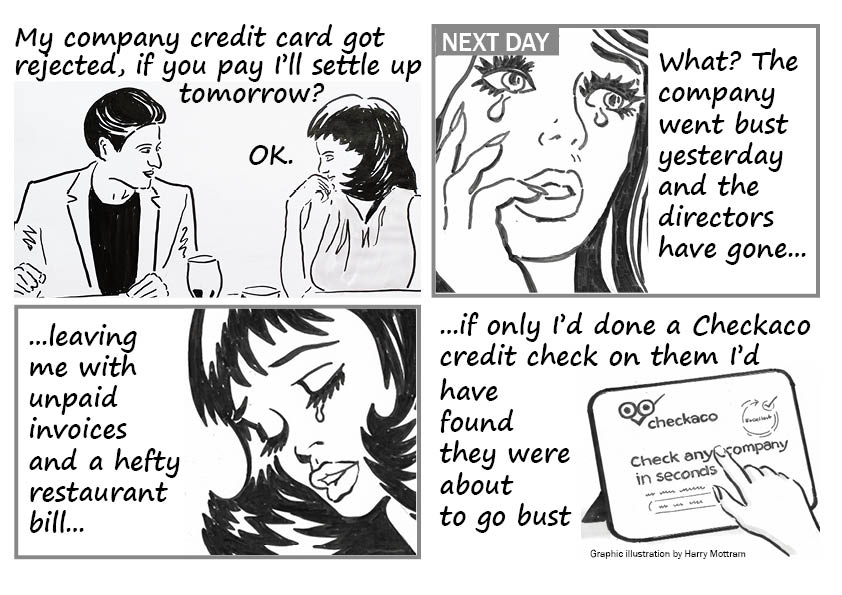 Millions of people have lost money to companies going bust this autumn – and with a simple check with Checkaco they could have saved the heartache.
In September 1,446 UK companies crashed taking with them billions of pounds of customers cash, leaving their suppliers invoices unpaid and their staff unemployed. A string of energy firms ceased trading leaving their customers in the lurch as their accounts were switched by Ofgem and much higher tariffs. And the switch often meant that customers who were in credit had to wait weeks to find out if their credit was still intact or swallowed up by the higher bills.
Utility Point, People's Energy, PfP Energy and MoneyPlus Energy all ceased trading in September while a string of retailers and travel and holiday firms including hotels have gone bust taking with them the deposits of their customers. Worse still are builders who have taken hefty upfront payments from customers and then declare their business has gone west along with the deposits which are often thousands of pounds.
If you are planning of parting with a large amount of cash to business – a wedding venue, a holiday firm, a double glazing company or a shop then check them out first.
You can check to see if the company is solvent for £6.50 per company checked.
Quickly view a company's CCJ's, legal ownership, credit history, credit score and more at https://checkaco.com/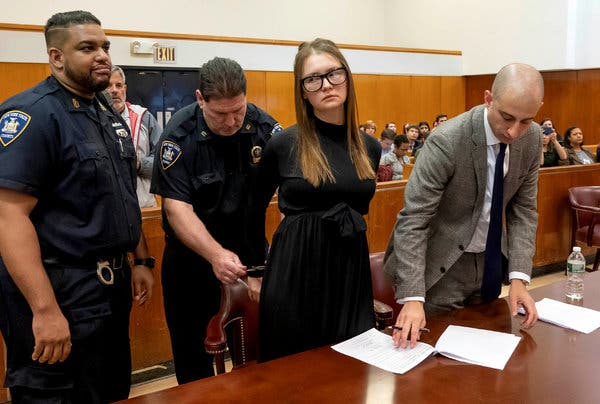 Anna Sorokin con woman
Sentenced to four years in New York's Rikers Island state penitentiary in 2019 and fined £20,000, Russian born con woman Anna Sorokin is currently awaiting deportation to Germany.
Born in Domodedovo near Moscow in 1991 Anna wanted to become rich and famous. She achieved both of these ambitions before her arrest on several charges of larceny and one of theft in 2017. Her family moved from Russia to Germany when she was a teenager and following school she gained an internship at Purple magazine in Paris. From this she was able to make contacts in the fashion world which gave her an entry to the well heeled and well connected changing her name to Anna Delvey.
Anna had arrived in New York in 2013 to work for Purple magazine although whether she was on the payroll was disputed. She blagged her way into the publishing crowd based on her previous connections and after meeting a fashion photographer she illegally used his credit card to fund her lifestyle. Her next step was simple: she announced to friends and businesses she was fabulously rich and would soon inherit a fortune from her wealthy father in Germany. All a lie of course – but it opened doors and hotels, restaurants and stores were happy to grant her large amounts of credit.
To enable her to pay some of the bills she obtained a hundred thousand pound bank loan based on her supposed millionaire status. Using this cash she continued to live in hotels and dine out at expensive restaurants grandly announcing to her sycophantic friends she was to open the Anna Delvey Foundation – a sort of posh arts centre in the city. By now the banks and hotels were closing in Anna persuaded some gullible friends to pay for a luxury holiday in Morocco on the promise it was to promote the foundation.
Running out of credit Sorokin was eventually arrested at a rehab centre and the full details of her crimes quickly unfolded. Various friends told of how she had borrowed money on the promise to repay the next day as her credit card wasn't working, hotels listed unpaid bills of tens of thousands of dollars and banks and credit companies rued the day they granted her hundreds of thousands of dollars of credit.
The joke is Anna may well end up being rich – she is already famous – as TV and film companies have lined up to tell her story and although she is unlikely to be paid directly by the media she will be able to publish her own story and sell it to the highest bidder back in Germany.
It's a story that has hit the headlines around the world since Anna is unrepentant and believes she did nothing wrong as only rich people and institutions were affected. She says she should have known better to lend her money – but many of those she conned were friends – and there lies a universal crime perpetuated by con artists the world over.
We have all had a friend or a relative who has asked to borrow money due to a crisis and have paid it back. Some of us have had a friend who in a restaurant realises they've left their company credit card at home and can't pay their fair share but promise to repay you the following day – but then fails to do so as the company credit card has been rejected.
If that happens you can check to see if the company is solvent for £6.50 per company checked.
Quickly view a company's CCJ's, legal ownership, credit history, credit score and more at https://checkaco.com/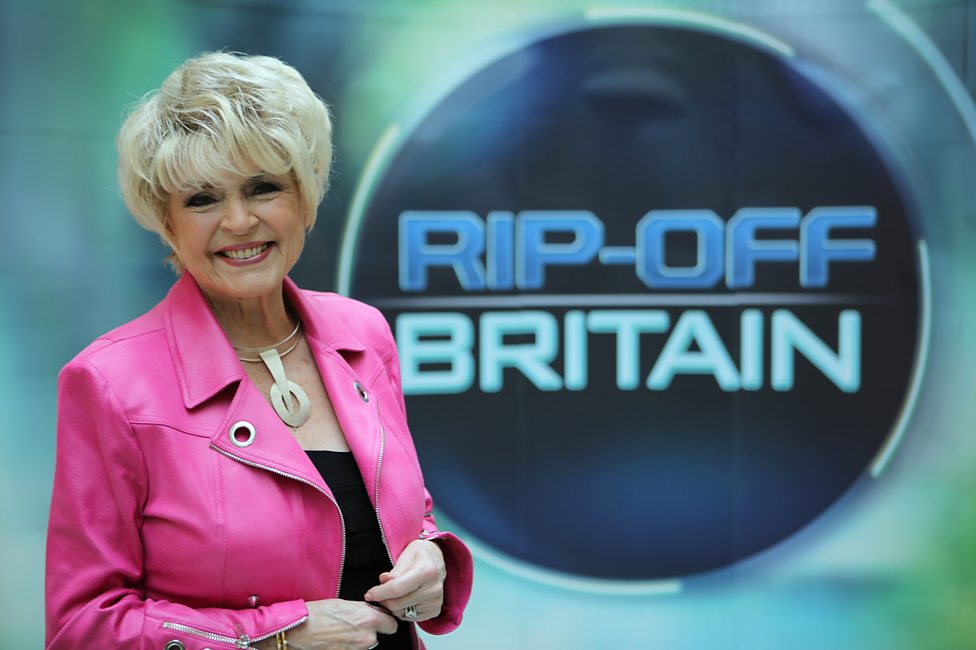 BBC Rip-off Britain presenter ripped-off
Unauthorised payment card fraud costs the public more than half a billion pounds a year with the commonest form taking the form of scammers using stolen credit and debit cards to withdraw money from cash points.
The fraudsters use a number of methods to empty the bank accounts of their victims, but the one that was used to empty the bank account of BBC Rip-off Britain presenter Gloria Hunniford was unusual.
A woman who did not look like Hunniford walked into at a Santander branch in Croydon North End and told the bank official she was the TV personality. Banker Aysha Davis did not know who Hunniford was and was duped into handing over £120,000 from her account convinced by two 'relatives' who accompanied the woman. She had Hunniford's bank details and a bank card in the name of Mary Winifred Gloria Hunniford – the full name of the BBC presenter.
Gloria Hunniford alerted the bank when she saw her bank statement and eventually the culprits were arrested and convicted of fraud while the bank refunded the cash. It's an unusual case for its brazen nature but if the fraudster had known the pin number of Hunniford's card she could have used a cashpoint – which is why you should guard against anyone trying to see your pin number.
The majority of card fraud is by remote purchases. The criminal has a stolen card and orders goods on line (usually high value) to be delivered. That way they only need to read out the number to the store salesperson or if they have the password and username they can simply fill in an online form.

There are rogues out there who pose as legitimate businesses or are firms with terrible credit histories. Before you pay a cash deposit to them do a credit check with Checkaco for £7.95 and see if they are legitimate. All firms have tell-tale credit histories which reveal if they can be trusted with your money. Checkaco's credit checks are accurate and up to date so you can spot if the trader you choose is safe – and won't go bust. Get the low down on any firm or individual at https://checkaco.com/

The ratings are poor, fair, good or excellent – find out all their details now for just £7.95 at https://checkaco.com/
For details about Checkaco email info@checkaco.com or visit the website https://checkaco.com/
Checkaco, The Exchange, Express Park, Bristol Road, Bridgwater, Somerset TA6 4RR UK