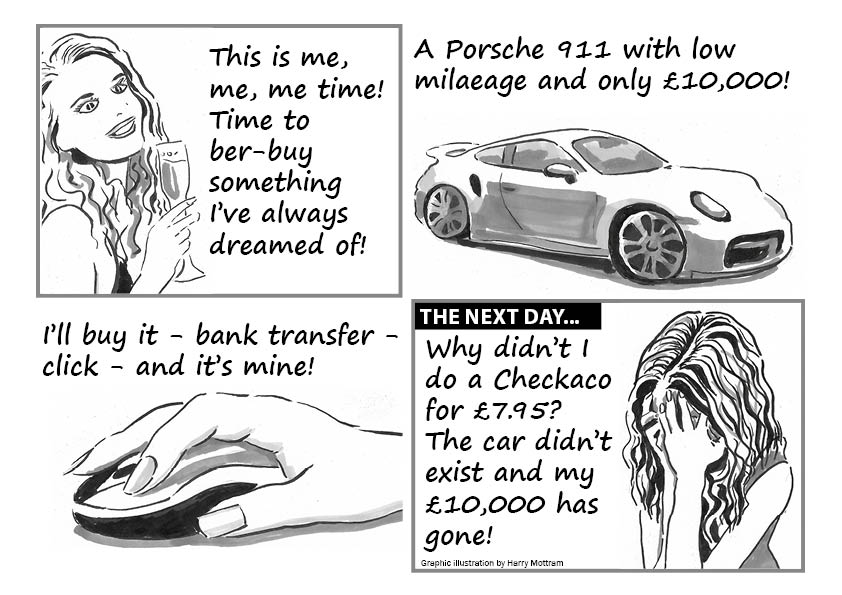 Buying something expensive online?Before you part with hundreds or even thousands of pounds in either buying or paying a hefty deposit follow these 10 top tips so you don't lose your hard earned cash: 
1 Always do a Checkaco on a business for £7.95 you are about to pay money to. Our credit checks are more accurate and more up to date than the traditional services offered by the banks and credit companies as we continually gather the latest credit intelligence information from a variety of sources. A rogue or a company with bad credit histories will be highlighted – and avoided.
2 Check the URL on the website for a minor change to a well known company like Amazon or Marks and Spencer. It may look exactly like the real company but a tiny spelling error or added word such as Ammazon or AmazonBargains will give the game away.
3 If for instance you are buying a car do a Google image search to check the photo is genuine. Right click on the image, copy the image's URL, and then paste it into the Google image search bar. That will reveal if the same photo of the car is being used by multiple traders. If it is then it's a scam.
4 Check on the sellers website for poor spelling and punctuation. Genuine traders will make an effort to make everything including all the details of the product correct. Overseas scammers and criminals often make the elementary mistake of failing to give full details and of making basic spelling errors. 
5 If you have contacted the seller and are still hesitating about making a purchase and they then put pressure on you to make a decision quickly stop. You need to do your research, do a Checkaco credit check and have a think. Pressure selling is a classic way for a rogue trader to get to you to buy.
6 It goes without saying that a quick internet search for the seller's name is the first step when checking them out. But criminals, dodgy traders and unethical firms quickly find a way to dodge bad reviews and bad publicity. They will change their name slightly or trade under different names – some legitimate and some bogus. So although an internet search is a good idea it won't uncover a rogue but a Checkaco search will as anyone trying to disguise their past will usually be highlighted.
7 When paying it is best to use a credit card as you are more likely to be able to get your money back if it is a scam through the Section 75 law which guarantees repayment of over £100. Bank transfer is a no-no. Your cash will simply disappear and you have no recourse. 
8 Never buy something highly expensive like a car or a boat online when under the influence of alcohol. It's also a golden rule of the internet in general as you may discover you've made a terrible error the following day with only yourself to blame.
9 Only buy from a seller who has contact information. If there is no email, phone number and most importantly of all an address then don't deal with them.
10 Be a sceptic. Testimonials and endorsements can easily be written by the seller. Five star reviews with similar praise for the company again and again can be simply made up – especially if the endorser has no name or address. And remember the golden rule: if something is too good to be true then it it probably is.

Get the low down on any firm or individual for £7.95 at https://checkaco.com/
There are rogues out there who pose as legitimate businesses or are firms with terrible credit histories. Before you pay a cash deposit to them do a credit check with Checkaco for £7.95 and see if they are legitimate. All firms have tell-tale credit histories which reveal if they can be trusted with your money. Checkaco's credit checks are accurate and up to date so you can spot if the trader you choose is safe – and won't go bust. Get the low down on any firm or individual at https://checkaco.com/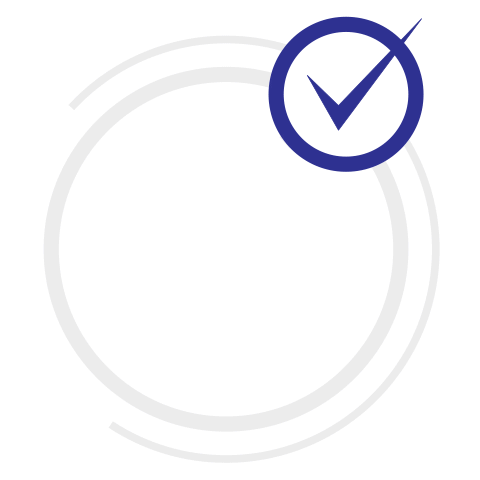 The ratings are poor, fair, good or excellent – find out all their details now for just £7.95 at https://checkaco.com/
For details about Checkaco email info@checkaco.com or visit the website https://checkaco.com/
Checkaco, The Exchange, Express Park, Bristol Road, Bridgwater, Somerset TA6 4RR UK