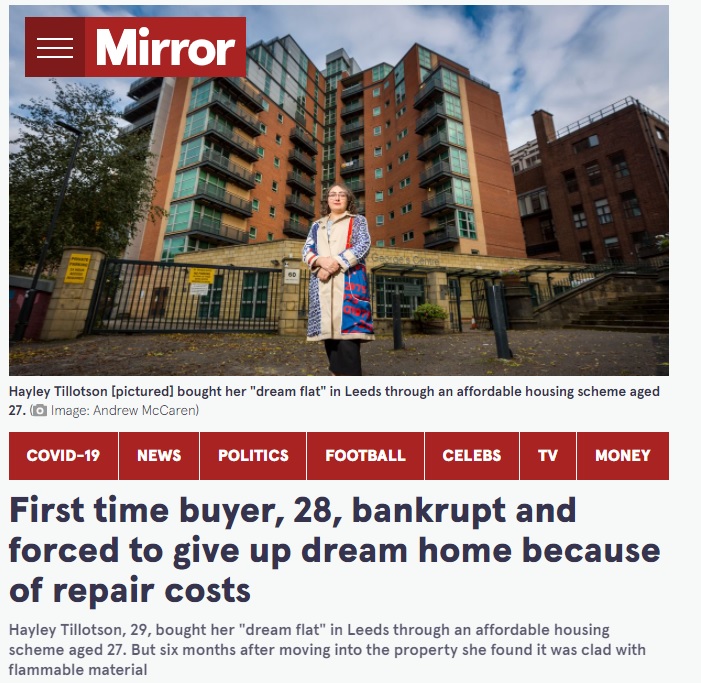 Buying a flat through an affordable housing scheme should be a fairly straightforward transaction as you expect the administrators will have done all the necessary surveys and scrutiny of safety and paperwork. Not so as Haley Tillotson found out when she bought a flat in Leeds as reported by Sam Barket in the Mirror.
They reported: "Hayley Tillotson, 29, bought her 'dream flat' in Leeds through the Help to Buy Scheme aged 27. But six months after moving into the property she found it was clad with flammable material. Ms Tillotson could not afford the fire safety costs, and in 2020 she gave up the property. Hayley said: 'Michael Gove's new announcement only applies to cladding – not the interim measures which bankrupted me.' She added residents have faced huge bills for other fire safety measures."
The Government has introduced some financial help for leaseholders of flats in high rise flats who are left with hefty bills to remove unsafe cladding – identified following the horrific fire at Grenfell Tower in London in 2017 when 72 people died. However the plans have been criticised for have a number of loopholes including the height of a property is in a block.
The Daily Mirror said: "The Housing Secretary axed £50-a-month loans for people in "medium-rise" blocks to pay for fixing cladding. Instead, people in buildings 11-18 metres high will not pay a penny for addressing cladding issues after Grenfell. But that's not strictly true. People are still having to pay for waking watches; non-cladding issues aren't covered by the scheme; and people who've already doled out cash won't get it back."
Buying a property can be an expensive exercise which is why it is well worth doing a credit check on company if you are buying from a builder or a building firm or through any scheme run by a company. Last year hundreds of house builders went bust – owing customers (house buyers) and their suppliers millions of pounds – and in many cases builders went bust when they discovered the could be liable for compensation over flooding, lethal cladding or other major issues with the property.
Checkaco was created for consumers so that they can quickly access very detailed information about a company. Using our secure search, you can view any company anonymously in seconds
Full peace of mind for £6.50 per company checked when you buy three reports for £19.50.
Quickly view a company's CCJ's, legal ownership, credit history, credit score and more.
Or buy in bulk: 10 reports for £37.50 (£3.75 each); 25 reports for £88.75 (£3.55 each); or 100 reports for £335 (£3.35 each)

Get the low down on any firm at https://checkaco.com/



For details about Checkaco email info@checkaco.com or visit the website https://checkaco.com/

Checkaco, The Exchange, Express Park, Bristol Road, Bridgwater, Somerset TA6 4RR UK