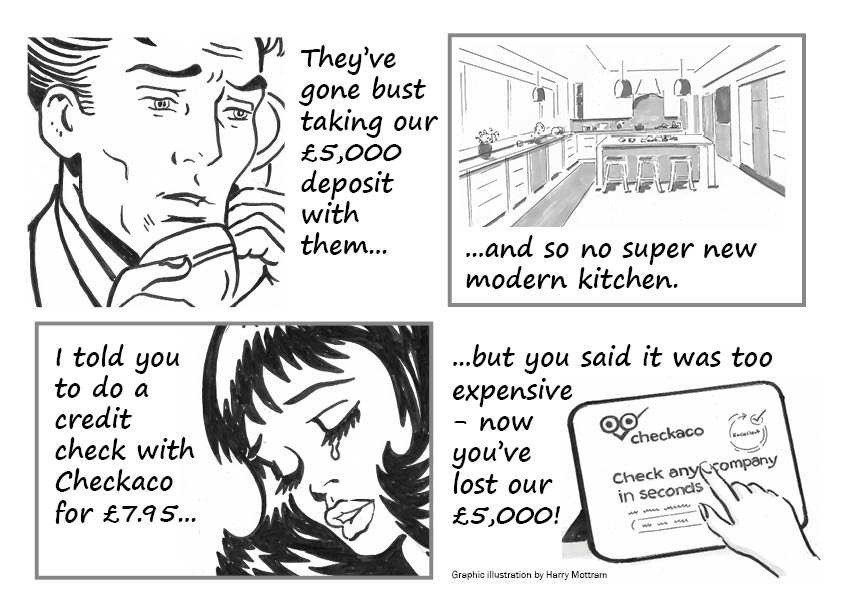 The consumer press is filled with stories of people who have looked at their old kitchens during lockdown and thought it would be good to change to something minimal and modern now they work from home.
Kitchens are pretty expensive home improvements especially if they are fitted by specialist companies – although the flip side is they add value to a home and make a property easier to sell.
Just as there are stories in the media about the importance of replacing old, unpractical and out of date kitchens so too are there articles about the rip offs. Yes there are companies that hike the price they've given as an estimate, when they claim there are hidden problems – but there is something worse: the company that goes bust with your deposit. That deposit can be several thousand pounds and scanning the consumer pages of the news there are many people who have paid up front and lost it all when the firm collapses into administration. Customers are unsecured creditors and come last in the queue for pay-outs meaning the money is lost.
If you are forking out several thousand for a deposit on a new kitchen then for £7.95 a credit check with Checkaco is a sound investment. Dodgy firms and companies in financial difficulties will be shown up – and can be avoided.
Get the low down on any firm, company or business for £7.95 at https://checkaco.com/
Have you been affected by this? Leave a comment at https://checkaco.com/blog/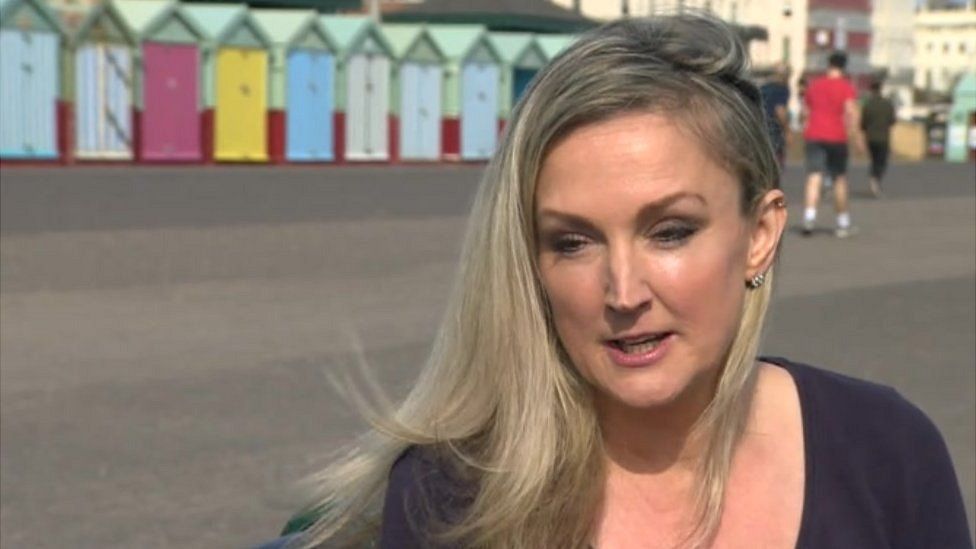 Scammers take life savings
Checkaco has highlighted the pitfalls of investing in crypto currencies before due to the wild fluctuations but also the dangers of scammers getting hold of your coins and hard cash.
Last month the BBC highlighted the story of Julie Bushnell who lost £9,000 when she fell for a Bitcoin fraud. Like anyone who has fallen for a con she felt embarrassed and humiliated by the event but we are all susceptible to the scammers and she expressly wished to publicise the con so others don't fall for it. The Corporation reported the con used the name of entrepreneur Elon Musk and a story on a fake BBC website suggesting she could double her money in a giveaway of the crypto currency.
Ms Bushnell said: "I think about it every minute of every day. It has affected me massively. I wish I could have that time back – go in a time machine and not make those couple of clicks. They have robbed me of my dignity, self-respect, self-worth and strength. They have sucked all the goodness of life out of me. I want to raise awareness of this scam so it doesn't happen to other vulnerable people."
The BBC reported: "Ms Bushnell, an investor in cryptocurrency, spotted an item on a website that appeared to use BBC News branding, claiming Mr Musk, the billionaire boss of the Tesla car firm, would pay back double the sum of any Bitcoin deposit. She paid £9,000, which she had saved for a deposit on a new home. When no reciprocal payment arrived, it dawned on her that she had become the victim of a scam."
Get the low down on any firm, company or business for £7.95 at https://checkaco.com/
Have you been affected by this? Leave a comment at https://checkaco.com/blog/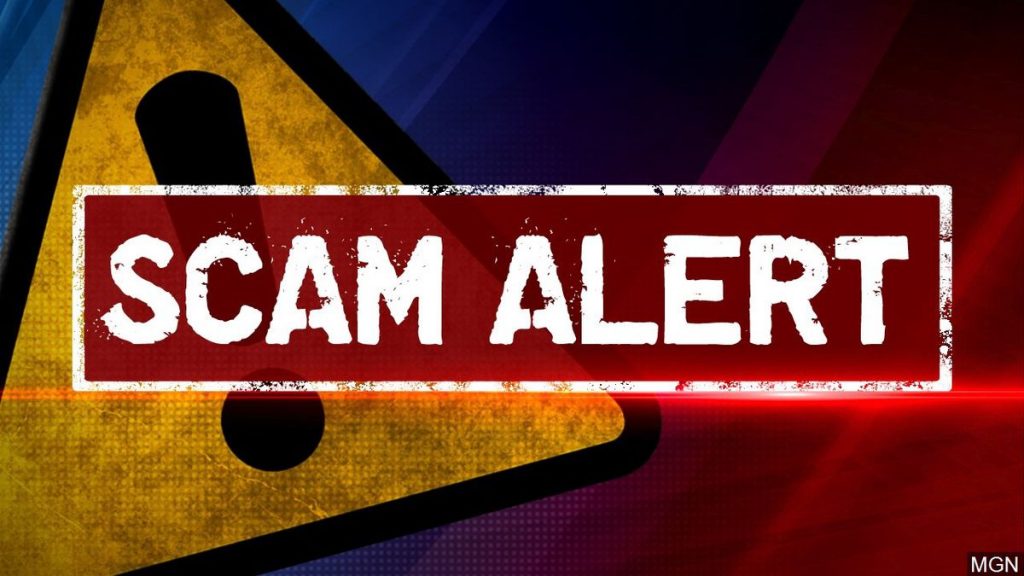 Solicitor's emails hacked leading to massive scam
When you use a solicitor to buy a home you assume there may be delays, but your money for a deposit is safe. The website Today's Legal Cyber Risk (www.todayslegalcyberrisk.co.uk) has reported on an unexpected scam that can catch any home buyer out as the scam came through a couple's solicitor.
The website reported: "In March, Nikhil Dudeja and his wife Richa were about to buy their dream home with a £45,000 deposit that they had been saving for. Whilst on holiday, Nikhil received an email from his solicitor asking for the money to be paid, which he then sent through his Lloyds banking app. However, this email was actually from a fraudster who had hacked into the solicitor's email system, telling Nikhil where to send the money. The £45,000 deposit then went to a fraudulent HSBC business account in North London."
It's a classic case of someone falling for a scam because it was from a trusted source – and Nikhil was expecting the email to confirm the sale. Most people would have done the same – but it is always best before sending such a huge amount of cash to make a phone call to check the email is genuine. Sadly, Lloyds bank refused to refund the cash and the criminal got away with it. And it is not the only case – others have lost even more – so you've been warned.
Get the low down on any firm, company or business for £7.95 at https://checkaco.com/
Have you been affected by this? Leave a comment at https://checkaco.com/blog/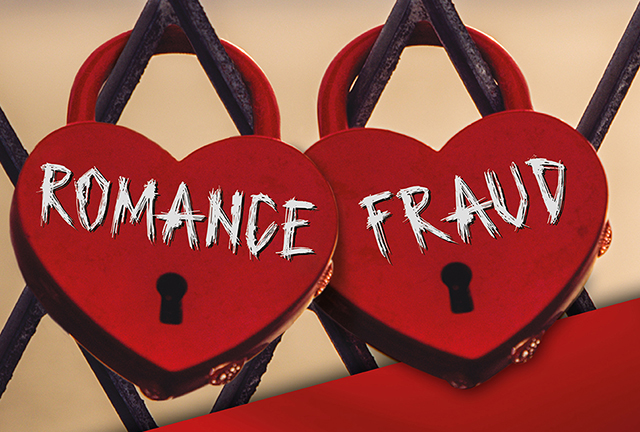 Romance can cost

Choosing a new partner on a dating website has become the norm for many people seeking romance. At first there is gentle messaging as newbies get to know each other and finally a date. However in some cases the date never happens because the 'date' is a fraud.
Police have issued warnings about romance fraud where the 'date' – always a very attractive looking person – spins a story after many exchanges that they need money.
This is one case issued by the Police in Bath to highlight the scam about one victim who lost £300,000: "The pressure I was under was immense. I can't tell you how awful I felt at the time. I feel I have been violated, sick to the stomach with the enormity of what has happened. You just can't get out of it."
Those are the words of Anna who was conned out of hundreds of thousands of pounds in a sophisticated romance fraud case earlier this year, spanning not only the West Country and Suffolk, but several different continents. Here she talks about her own experience and warns people who find themselves in a similar position to contact the police or Action Fraud. Anna, who is in her 50s and from Suffolk, lost her husband to an illness last year; with lockdown looming she found herself alone, isolated and looking for companionship.
She said: "I coped quite well initially after my husband's death, but after Christmas and then with the COVID-19 pandemic, I went into a bit of a decline. I wasn't lonely as my family, who don't live locally, are very supportive, but I felt very vulnerable and isolated with my grief, especially as I live on my own."
Anna had met her husband via a dating website and felt it was initially a good way of connecting with people at a time when normal life was changing and face-to-face contact not possible. She was approached by Tim from Windsor – a civil engineer. Or so he claimed.
First of all he borrowed £3,500 from her for living expenses after he ran into difficulties abroad but it later escalated to a loan of £68,000 for equipment he needed for his job and later £200,000.
Once a victim is sucked in – they are constantly flattered and made to feel special ahead of a possible marriage and wedded bliss – but sadly they continue to feed the monster.
So before sending any cash to a potential lover always sound them out by checking all their credentials with their bank, employer and references – as they could be a scammer as Anna found out.
Get the low down on any firm, company or business for £7.95 at https://checkaco.com/
Have you been affected by this? Leave a comment at https://checkaco.com/blog/

There are rogues out there who pose as legitimate businesses or are firms with terrible credit histories. Before you pay a cash deposit to them do a credit check with Checkaco for £7.95 and see if they are legitimate. All firms have tell-tale credit histories which reveal if they can be trusted with your money. Checkaco's credit checks are accurate and up to date so you can spot if the trader you choose is safe – and won't go bust. Get the low down on any firm or individual at https://checkaco.com/

The ratings are poor, fair, good or excellent – find out all their details now for just £7.95 at https://checkaco.com/
For details about Checkaco email info@checkaco.com or visit the website https://checkaco.com/
Checkaco, The Exchange, Express Park, Bristol Road, Bridgwater, Somerset TA6 4RR UK