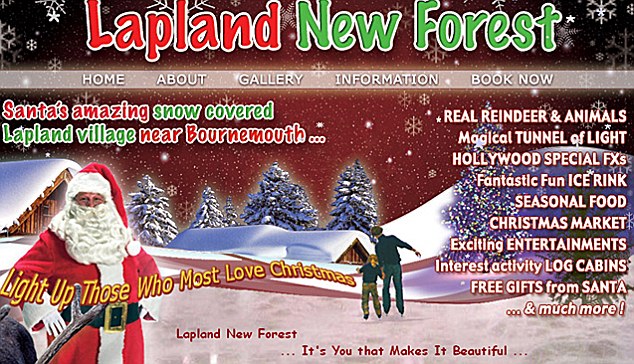 Every Christmas hundreds of families have their hopes crushed by visiting rubbish Christmas Wonderlands. Those places that say you can enter a land of snow and ice, a land of magic and Christmas mystery filled with reindeer, presents and sparkling lights. When the reality is a rain-soaked car park with a few stalls, a naff Santa with feeble presents and not a reindeer in sight.
Some are run by established venues, some lease their venue to a third party while others are one off companies that see the pound signs and set up a site on some waste land or a disused car park.
Muddy field
Recent ones include Lapland in the New Forest that took parental cash for what can only be described as a muddy field where unpleasant Elves threatened anyone who complained. Then there was the Edinburgh Christmas market where Santa's Train worked out more expensive than a first class ticket on the Orient Express. Bangor's Winter Wonderland was closed after scores of people complained about the poor quality stalls and grotty grotto. And who can forget Milton Keynes' Winter Wonderland that shut after only one day – but not before banking the ticket money?
A simple internet search will bring up scores of winter wonderlands and similarly named events. From the Winter Wonderland in Hyde Park featuring an almost entire village of Christmas themed activities to much smaller but equally well-run ones like the Winter Wonderland at Field House Manor House and Barns in Sussex the majority are fine.
Wonderland
Another well run one is the Nottingham Winter Wonderland. To illustrate some of the information about the company I did a Creditcheckco search on the organisers – the Mellors Group – who are clearly a respectable and well-run company. As you can see the checks show the directors, the registration details, their subsidiaries, credit rating and even their turnover. All above board – unlike some of the cowboys who set up poorly run events.
For instance there are the rogues like the brothers Victor and Henry Mears who were found guilty of misleading advertising and served time in prison for Lapland in the New Forest where tickets were £30 each and £10 for tiny tots. When they were brought to book the Judge Mark Horton said they 'delivered misery by way of disappointment to thousands of people'. By then thousands of people had paid up their hefty entrance fees for what was the ultimate in Winter Craplands.
Upset children
So if you see one advertised – have some peace of mind and check out the name and background on creditcheckco and save yourself the heartache of upset children and a long car journey to a muddy field for just £3.85.
Find out more about how to get the low down on a company your are about to send some money to at https://creditcheckco.com/ for just £3.85.