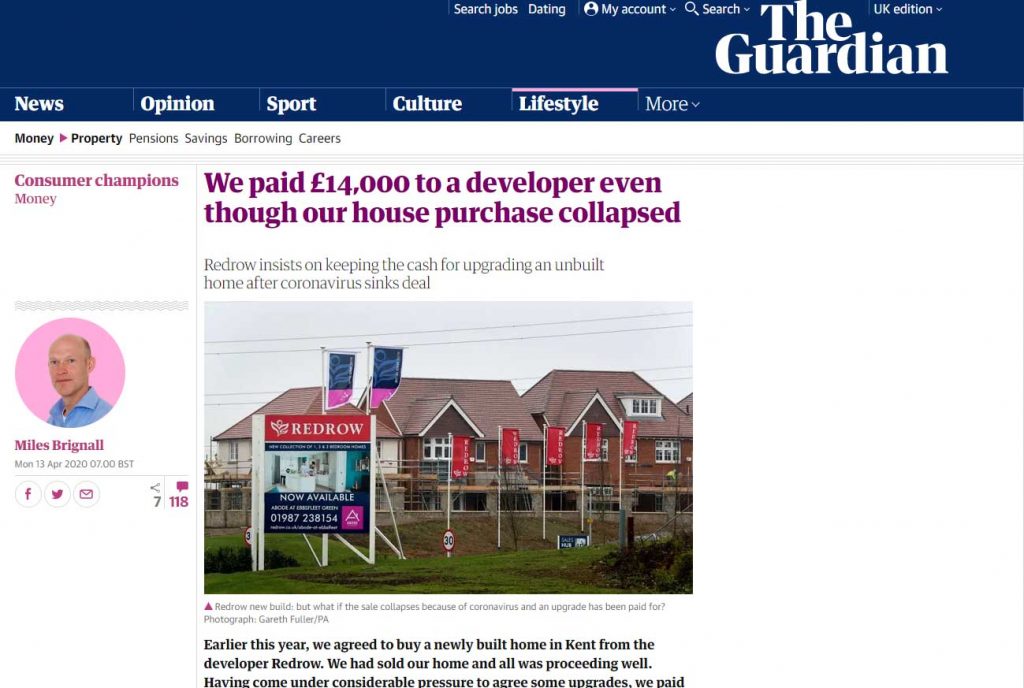 The Guardian's Miles Brignall has written about the case of a house buyer who said they have been well and truly stitched up Redrow Homes this April.
The reader contacted Miles Brignall to say: "Earlier this year, we agreed to buy a newly built home in Kent from the developer Redrow. We had sold our home and all was proceeding well. Having come under considerable pressure to agree some upgrades, we paid almost £14,000 upfront for granite kitchen tops and Siemens appliances. We were told that this would enable the purchase and completion to go through on time.
"Within hours of the coronavirus lockdown starting, the person who had agreed to buy our house pulled out. With no possible way to find a new buyer in the current climate, we, in turn, have had to withdraw from the Redrow purchase.
"We assumed that we would receive our £14,000 back, but the company has refused. It claims its terms and conditions state that all items ordered are non-refundable. I have asked for evidence these items were ordered or installed by Redrow but they are unwilling to share this information. The site in question in Ebbsfleet Valley has been shut, so no work is happening."
Miles Brignall replied to say nobody should pay up front for property upgrades like this in any circumstances and particularly during the current crisis. But it's not just Redrow who indulge in this legal but sharp practice. What happens if your buyer doesn't pull out and you plan to go ahead with the deal as you are sure your job is safe but the builder goes bust? Sadly this is all too often the case as there are thousands of small building firms and many go bust each year taking with them the deposits for homes to be built or altered.
And it's not just builders it's plasterers, brickies, roofers, glaziers, bathroom and kitchen fitters who may ask for cash up front or for materials. There is one way to check them out and that's on Checkaco where you key in their name and up comes their business history for just £3.85. If they've got County Court Judgements or a string of directorships of collapsed companies to their name or have failed to submit their accounts, then dump them.
Property sale deals are falling apart across the country as people pull out of buying a home. If you think you won't have a job by the summer then getting a mortgage will be impossible and so not surprisingly people are like MW in Kent are in a fix. Always check them out first at https://checkaco.com/ and for £3.85 save yourself a lot of heartache, stress and cash.