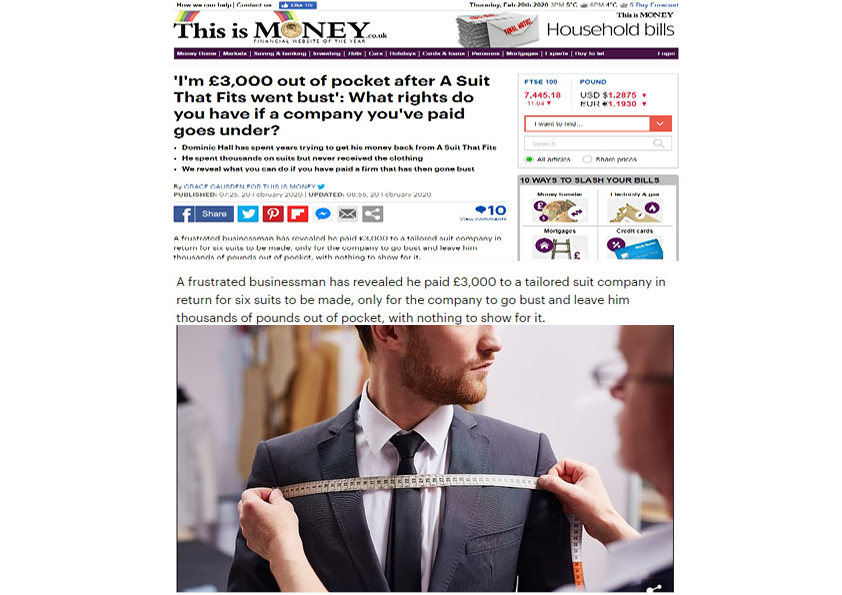 Dominic Hall of Hertfordshire paid A Suit That Fits £3,000 for a suit that never materialised. When he asked for his money back the company went bust. A simple credit check with Checkaco would have flagged up a string of financial irregularities and persuaded Dominic to spend his money elsewhere.
Writing for This Is Money this month Grace Gausden reported: "Unfortunately, the company went into administration – but the owner subsequently setting up a similar business under a different trading name, Tailored Franchises Ltd. When trying to get a refund after he realised the business was no longer trading, Dominic, 31, was advised that nothing could be done, leaving him wondering how consumers could be given so little rights."
This is Money reported that because Dominic had paid by debit card, rather than on credit card, he has been left with asking his bank for help. The bank's policy was to repay money in some circumstances if the request was made within 120 days of the transaction. Because the company kept stalling and not answering his calls four months quickly passed and so the bank declared the money was lost.
The Chartered Trading Standards Institute issued this statement: "We feel very sorry for this consumer and I am afraid that when a business becomes insolvent there is little that the consumer can do to reclaim what they have paid over.
"Customers should always try and pay for any goods costing more than £100 by a credit card if they have one. No matter how much of the purchase price is paid using the credit card, the credit card company are equally liable, under Section 75 of the Consumer Credit Act 1974, for any breach of contract.
"Payments using a debit card are also protected, through the banks chargeback rules, so it would be worth the consumer contacting their bank to ask them to look into this transaction, particularly because payment was taken some time earlier and the order was not fulfilled. This is not a statutory right, so would be a matter for negotiation with the bank."
A Suit That Fits, run by Daniel Warwick went bust in 2018 owing £2m to its customers and suppliers.
For just £3.85 and a quick anonymous check on the company with Checkaco he would have saved himself £3,000 and found another suit from a financially stable tailor. If in doubt of using a company in which you plan to pay large amounts of money do check them out first at https://checkaco.co.uk/ and save yourself a lot of heartache, stress and cash.