Dodgy builder took £60 off mum and never did the work!
Picture: Kent Online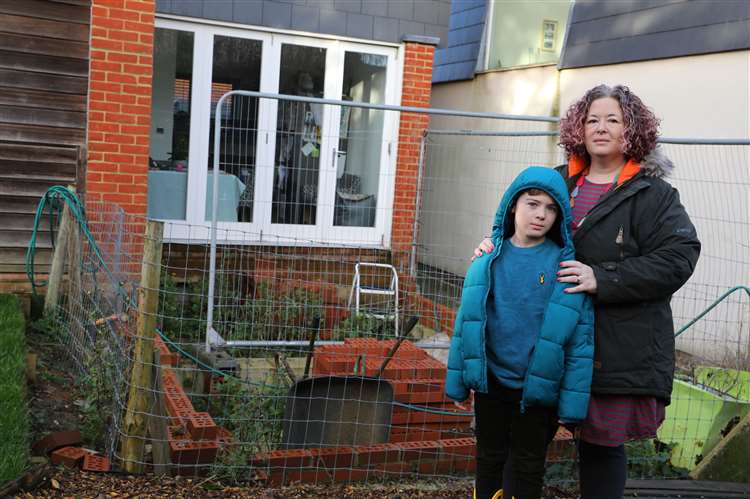 After Shelley Weeks' husband Wayne died of cancer she decided to invest the lump sum from his pension into improving the family home in Coxheath.
She paid the building firm Trigon Property Care owned by Christopher Hook £60K to construct an extension on the back of her home. The builder started the work and then stopped leaving part of the groundwork incomplete and has since not done any more work but has kept the money. Eventually Shelley took him to court and although she has won a claim of a charge on his home she hasn't received a penny and is unlikely to do so despite spending thousands on legal fees.
If she had used CheckaCo and spent £3.85 she would have seen Christopher Hook's poor financial track record and avoided using his services.
Shelley's husband Wayne died of leukaemia aged 33 making this an even more tragic case. But it could have been avoided.
Lydia Catling of Kent Online explained about the charge on Hook's home. She wrote: "The order means if he were to sell his home, she would have a claim to receive £70,000, which includes legal costs. However, she thinks this will be unlikely as others are believed to have orders on his home and therefore also entitled to a share of any sale.
"She said: 'Even though I knew it was likely my money would be lost I just couldn't let it go. When you lose someone that tragically it puts a lot of things in perspective and money isn't top of your list any more but I had to feel like I had done everything possible to get justice and get back what was mine.' "Since publishing her story on Facebook, Mrs Weeks' post has been shared more than 4,000 times and several people have contacted her claiming to have had problems with the builder."