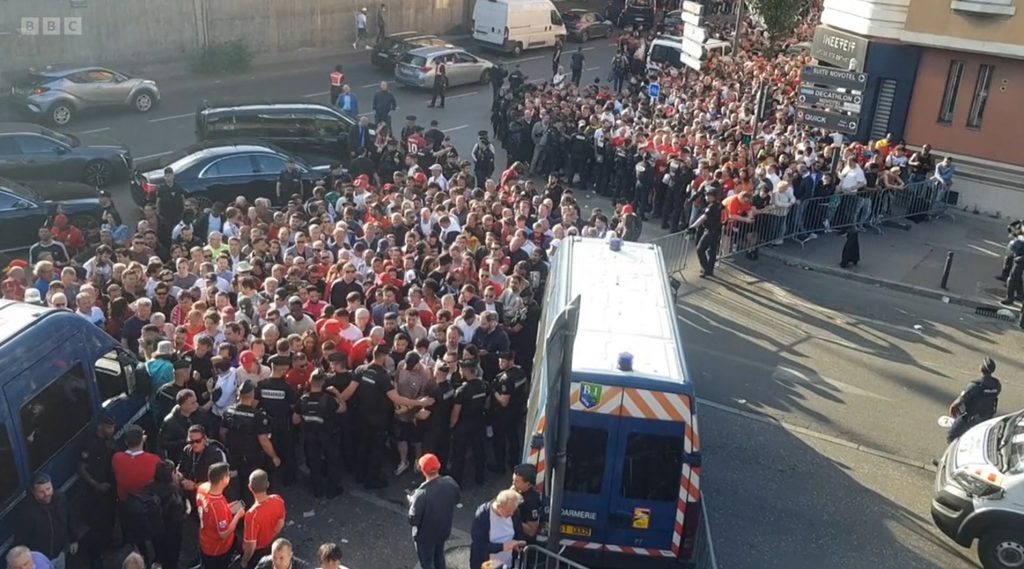 Scam match tickets
Liverpool fans caught up in Paris nightmare for the European Champion League's match in May were flooded with fake tickets which caused a night of misery.
Thousands of fan bought what they believed were genuine paper tickets which were forgeries meaning when they arrived at the turnstiles their ticket was rejected and they were barred from entry.
Other fans who had genuine tickets were also rejected as someone with an identical copy of their ticket had gained entry before them leaving their ticket invalid.
It meant thousands of fans could not gain access to the ground as the entry system descended into chaos – not helped by the ground which kept some of the entries closes, ticketless local youths climbing the barriers and causing trouble outside, a police force who over-reacted and pepper sprayed innocent fans waiting to enter and the organisers UEFA who failed to learn from previous problems. And the stadium authorities clearly were caught out by the event and failed to get themselves organised.
Official tickets could only be purchased from UEFA.com who released 52,000 tickets for fans and the general public from a total of 75,000. Both Madrid and Liverpool clubs were issued with 20,000 tickets for their fan base of which 10,000 were free to those who suffered during the covid pandemic while a further 12,000 tickets were sold to a global audience of fans football. Liverpool and Madrid were charged with distributing and selling their allocations. The tickets ranged in price from €70 to €690. It should have been a straight forward operation to access the stadium as the tickets were delivered via the official UEFA Mobile Tickets app from ten days before the match.
However, criminals had bought official tickets and then reproduced them on an industrial scale selling them via social media to fans who were not aware they were fakes. The advice is not to buy from anyone other than the club or from UEFA and don't get fooled by so called 'official' organisations based abroad or from an address not associated with the clubs or UEFA – and never direct transfer cash to the seller.

Checkaco was created for consumers so that they can quickly access very detailed information about a company. Using our secure search, you can view any company anonymously in seconds
Full peace of mind for £6.50 per company checked when you buy three reports for £19.50.
Quickly view a company's CCJ's, legal ownership, credit history, credit score and more.
Or buy in bulk: 10 reports for £37.50 (£3.75 each); 25 reports for £88.75 (£3.55 each); or 100 reports for £335 (£3.35 each)

Get the low down on any firm at https://checkaco.com/



For details about Checkaco email info@checkaco.com or visit the website https://checkaco.com/

Checkaco, The Exchange, Express Park, Bristol Road, Bridgwater, Somerset TA6 4RR UK