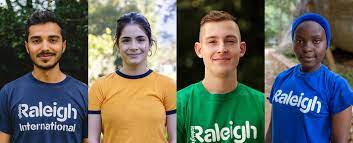 Young fundraisers could lose all their cash as sustainable development charity Raleigh International goes bust
A charity launched by Prince Charles in 1978 has gone bust leaving up to 50 staff out of work and hundreds of young people in the lurch with their hard earned cash from fun raising lost.
Raleigh International is a so-called sustainable development charity linked the Royal Family and is seen by critics as the charity for the well-heeled who want to do their bit for the poor around the world. Both Prince William and Kate Middleton have taken part in the scheme in previous years. Young people sign up and pledge to raised thousands of pounds to pay for their travel and accommodation in countries in Africa, Asia and South America where they will spend several weeks helping on projects to help struggling communities. Some 55,000 people have used the charity to help others around the globe with projects from building community buildings, digging wells and introducing innovative farming methods to remote villages.
Last week the charity suddenly announced they were ceased operations and entered Creditors' Voluntary Liquidation having appointed Carter Backer Winter as liquidators.
In a statement they said: "It is with enormous sadness that we report Raleigh International Trust will cease operating from Thursday 19 May 2022. Raleigh International Trust is inclusive of Raleigh Nepal and Raleigh Nicaragua. Raleigh Tanzania and Raleigh Costa Rica have independent status, and we are currently exploring the future viability of them operating without Raleigh International Trust."
The charity blamed the effects of Covid cancelling a number of projects and trips and the reduction in overseas aid from Governments.
However, that is cold comfort for the hundreds of young people who have already raised tens of thousands of pounds ahead of their trips having sent their cash to the charity. All of that cash could now be lost.
The Times reported a typical case of a volunteer losing out. They quoted Rosie Giesler, 20, from Cambridge, who was due to fly to Costa Rica at the end of July for a ten-week sustainable development programme. She had raised £3,800 by the fundraising deadline on May 16, three days before the announcement. Another victim they reported on was Will Chubb who is only 17 and had raised £2,300 for the charity having also paid for vaccinations, flights and a visa for Nepal ahead of his now cancelled trip.
His mother was furious with the charity as they must have known things were about to collapse but still accepted cash from the volunteers. The Charity Commission said they were looking into the case and were in talks with the administrators.
Checkaco was created for consumers so that they can quickly access very detailed information about a company. Using our secure search, you can view any company anonymously in seconds
Full peace of mind for £6.50 per company checked when you buy three reports for £19.50.
Quickly view a company's CCJ's, legal ownership, credit history, credit score and more.
Or buy in bulk: 10 reports for £37.50 (£3.75 each); 25 reports for £88.75 (£3.55 each); or 100 reports for £335 (£3.35 each)

Get the low down on any firm at https://checkaco.com/



For details about Checkaco email info@checkaco.com or visit the website https://checkaco.com/

Checkaco, The Exchange, Express Park, Bristol Road, Bridgwater, Somerset TA6 4RR UK