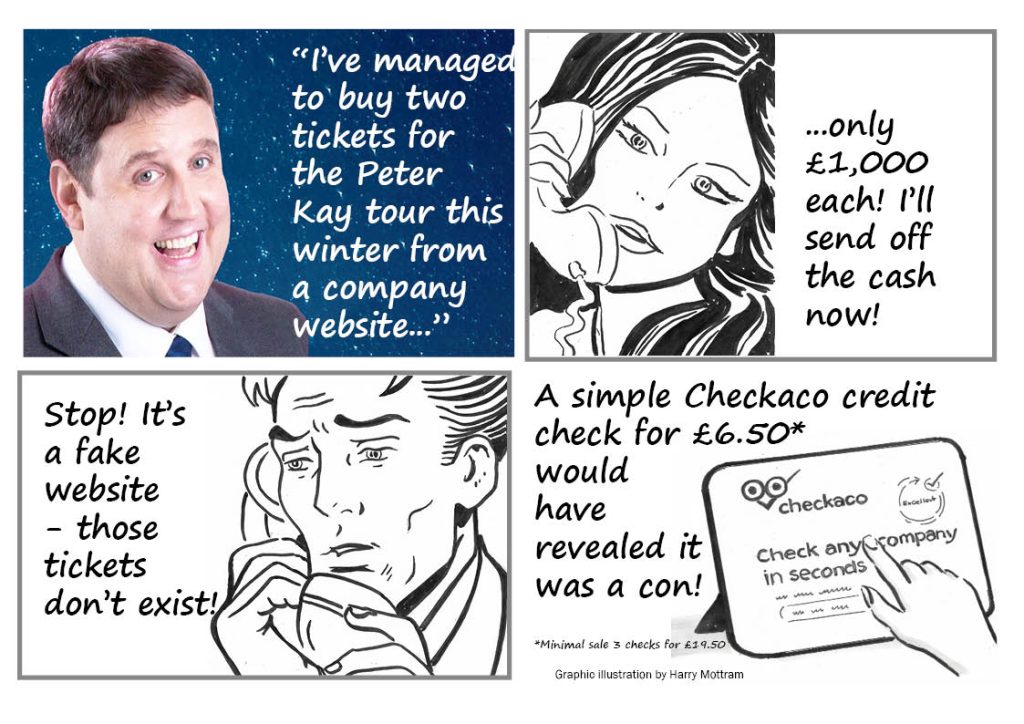 The Bolton-based stand-up comedian Peter Kay has unwittingly sparked a deluge of problems for his fans after announcing a number of live gigs later this year and in 2023. Nothing unusual about that except in this digital age scammers and rip-off merchants are two a penny as they fleece punters of their hard-earned cash.
Ten years ago, when Peter Kay last toured the issue of tickets was more to do with demand from the venue – but now criminals have set up lookalike websites and posing as the legitimate seller. And some unscrupulous sellers as highlighted by Elizabeth Haigh of the Daily Mail have hiked prices for Kay's shows by 1,080%. She reported: "Tickets at a face value price of £150 each in Leeds in September are now on sale at Viagogo for £1,770 – a 1,080 percent mark-up."
Clearly people are upset by the huge mark-ups but even worse are fake websites that copy legitimate ones down to last piece of graphic in order to take cash for tickets which don't exist. The BBC's Simon Read reported in the summer on scammers selling fake Premier League tickets. He wrote: "Fraudsters are using social media to offer fake tickets and trick unsuspecting victims out of their cash – the average loss is £410, according to Lloyds Bank. The fans pay by bank transfer, which offers no protection to consumers. If you can't pay by credit or debit card, 'that's a big red flag that you're about to get scammed,' the bank warned. Cases of the scams climbed by more than two-thirds between January and June, according to Lloyds Bank data. This surge was because fraudsters took advantage of people desperate to attend live events after Covid restrictions ended."
Using sites on social media such as Facebook, Twitter, Instagram and TikTok scammers list tickets they have – sometimes at low prices claiming to be a fan who cannot make a gig – sometimes at high prices for the most popular events. They will post images of tickets online, but these are usually fakes – and they always ask for payment by bank transfer and use high pressure tactics to clinch a sale suggesting there's only seconds before the offer is withdrawn. And once the bank transfer has gone through the scammer disappears and you have lost your cash and have no ticket.
Checkaco was created for consumers so that they can quickly access very detailed information about a company. Using our secure search, you can view any company anonymously in seconds
Full peace of mind for £6.50 per company checked when you buy three reports for £19.50.
Quickly view a company's CCJ's, legal ownership, credit history, credit score and more.
Or buy in bulk: 10 reports for £37.50 (£3.75 each); 25 reports for £88.75 (£3.55 each); or 100 reports for £335 (£3.35 each)

Get the low down on any firm at https://checkaco.com/



For details about Checkaco email info@checkaco.com or visit the website https://checkaco.com/

Checkaco, The Exchange, Express Park, Bristol Road, Bridgwater, Somerset TA6 4RR UK