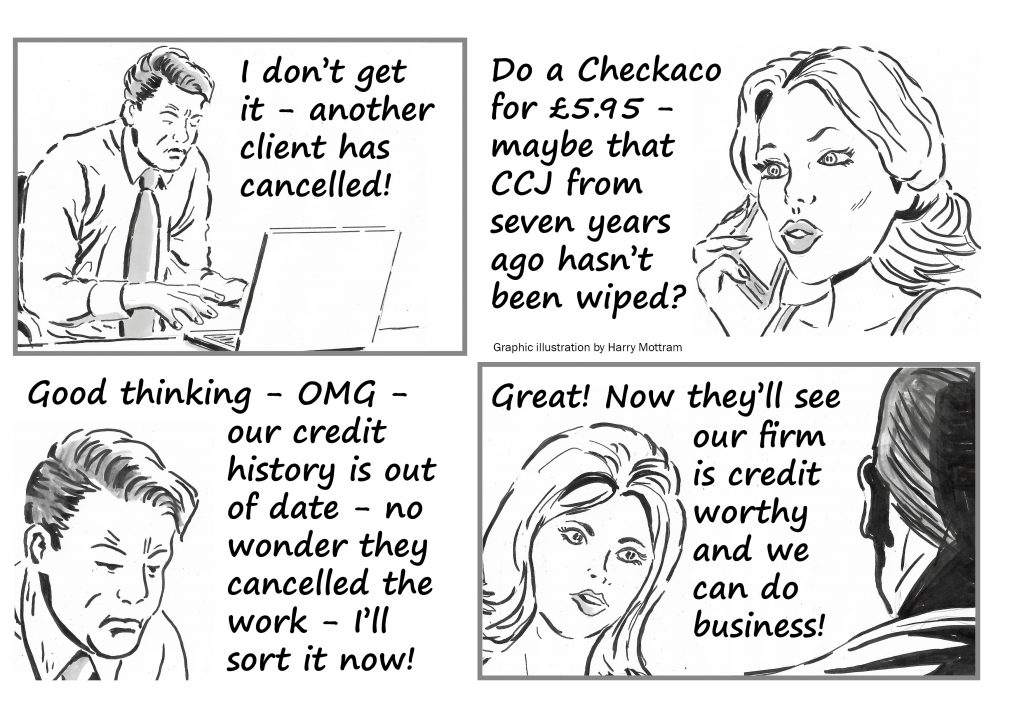 Potential clients will invariably do a credit check with you before they order work – if your credit rating is poor they'll run a mile. Check what they see with Checkaco and update it if it's incorrect
Is it poor, fair, good or excellent – find out now for just £5.95!
If a potential customer uses an out of date credit check on you before they commission work they may panic and cancel the work – it's sadly a regular problem. Incorrect information could include an out of date County Court Judgement (they should be wiped after six years), or maybe it's when you filed your accounts late due to illness, or perhaps it shows your working capital is minimal. Any doubts they have, could cost you a new client.

For just £5.95 do a credit check with Checkaco https://checkaco.com/ and see if your credit is poor, fair, good or excellent.
Or check a new client in seconds to see if they are safe to do business with.
Smart, simple analysis for safer financial decisions
Includes full company details, directors, financial status and debts with ratings from excellent to poor
Visit Checkaco NOW at: https://checkaco.com/
For details about Checkaco email info@checkaco.com or visit the website https://checkaco.com/ 
Checkaco, The Exchange, Express Park, Bristol Road, Bridgwater, Somerset TA6 4RR UK